Product Description
G70 TRANSPORT CHAIN
Detailed Photos
Product Description
Product Features
• High-strength, low-alloy carbon steel for superior quality and strength
• Yellow zinc chromate finish
• Heat-treated and strength-tested
• Design Factor: 4 to 1
• Proof Tested
• Embossed with proper grade 70 markings to meet NACM and ASTM requirements
G70 TRANSPORT CHAIN
Grade 70 Transport Chain manufacturer CZPT makes high quality, high strength G70 carbon steel chain, heat-treated and used for load securement in yellow chromate color.
Grade 70 Chain is the chain of choice for load binding applications. It is also well suited for tie-downs, towing and logging operations. Its strength to weight ratio exceeds that of Proof Coil and High Test chain.
Transport chain is considered the chain of choice for load binding applications. It is also well suited for tie-downs, towing and logging operations. Its strength to weight ratio exceeds that of Proof Coil and High Test. Transport chain meets Department of Transportation regulations. Order unit is foot. NOT FOR OVERHEAD LIFTING.
G70 TRANSPORT CHAIN –  FULL RANGE OF SPECIFICATION
Nominal
Material 
Working 
Proof Test
Breaking 
Inside
Inside 
Chain
Diameter
Load Limit 
(Min.)
Force 
 Length
Width 
Size
 
(MAX.)
 
(Min.)
(Max.)
(Max.)
INCH
MM
INCH
MM
LBS
KG
LBS
KN
LBS
KN
INCH
MM
INCH
MM
1/4″
7
0.281
7
3150
1430
6300
28
12600
56
1.24
31.5
0.38
9.8
5/16″
8.7
0.343
8.7
4700
2130
9400
41.8
18800
83.6
1.29
32.8
0.44
11.2
3/8″
10
0.406
10.3
6600
2990
13200
58.7
26400
117.4
1.38
35
0.55
14
7/16″
11.9
0.468
11.9
8750
3970
17500
77.8
35000
155.4
1.64
41.6
0.65
16.6
1/2″
13
0.531
13.5
11300
5130
22600
100.4
45200
200.8
1.79
45.5
0.72
18.2
5/8″
16
0.63
16
15800
7170
31600
140.4
63200
280.8
2.2
56
0.79
20
3/4″
20
0.787
20
24700
11200
49400
219.6
98800
439.2
2.76
70
0.98
25
TEST
Company Profile
COMPANY PROFILE
HangZhou CZPT Co., LTD is located in HangZhou, China.  As the leading Manufacturer for Chain and Rigging Supplies, we carry a diverse portfolio of products engineered to exceed the toughest demands in any industry.  
Our products included welded chain, Grade 30, Grade 43, Grade 70, Grade 80 and Grade 100 Lifting Chains.  
Chain slings, Hooks, Shackles, Turnbuckles and other rigging hardwares are also our specialty.  We also handle a range of custom engineered solutions for our customers.  
At Powerful Machinery, we have a team of professional working together to provide our customers with the best products and services.  It is not just about lifting products, it is about working with a trusted partner who is invested in your sucess.  
 
HangZhou CZPT – COMPANY CERTIFICATION
FAQ. 
1. Are you a factory or trading company? 
We started as an anchor chain factory about 20 years ago and gradually developed into a big manufacturer in marine supplies. At the same time, to meet the growing demands from our clients in new business areas, we expanded our scope to rigging hardware and fasteners, and other related hardware by setting up CZPT partnership with other factories. Now we're proud to say that POWERFUL has ranked as a top supplier on chains & rigging hardware in China.
2. Where is your factory located?
Our factory is located at #37, Wenhua Road, Xihu (West Lake) Dis., HangZhou City, ZheJiang Province, China.
You're welcomed to visit us any time for future cooperation.
3. What products do you supply?
As mentioned above, HangZhou CZPT is capable of supplying:
♦ all kinds of marine supplies
♦ Chains
♦ Rigging Hardwares
♦ Wire Ropes
♦ Chain Slings
4. Do you produce them all?
We produce all kinds of chains in our factory, other products in our partner factories. By establishing cooperation agreements & capital injection, we obtained a wide & CZPT supply chain to meet your demands.
5. How do you control quality?
By setting up quality control points and inspecting at each production process with strict standards, the defective products will be eliminated before packaging and delivery. For partner factories, we use a comprehensive system of quality standards to evaluate the production line. Also our professional QC team will implement the onsite check and finish product check before delivery.
6. Why are you more trustworthy than the other factories?
Quick Response: 
We feedback your questions immediately 24 hours a day, 7 days every week.
Competitive Price:
We can provide a more competitive price based on the same quality level by more efficient management in every process.
One-stop Solution:
Just say what you need, and we'll figure out a one-stop solution for your business to save your time and effort.
7. How do I pay?
We accept 30% payment in advance & 70% before shipment for the first cooperation, either by T/T or L/C.
8. How do I receive the goods?
With our professional transport agents, we are capable of delivery products to most ports all over the world. Door-to-door service is also supported.
FOB, C&F, CIF are most commonly used trade terms.
 
| | |
| --- | --- |
| Usage: | Transport Chain |
| Material: | 20mn2 Alloy Steel |
| Surface Treatment: | Yellow Chrome Plated |
| Feature: | High Tensile |
| Chain Size: | 0.392X1.374X0.551 |
| Structure: | Welded Chain |
Samples:

US$ 45/Foot

1 Foot(Min.Order)

|
Request Sample
Customization:

Available

|

Customized Request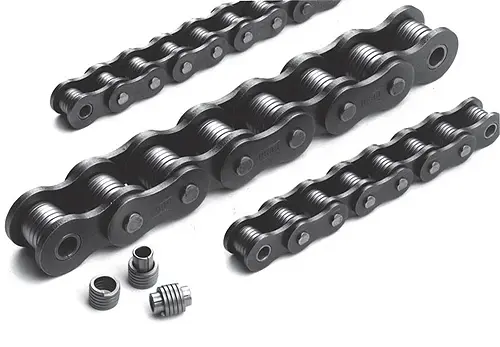 Types of roller chains and their applications
There are many factors that can cause premature wear of the roller chain. They include friction, external shocks, and lack of lubrication or adjustment. Here are some tips to help you prevent premature chain wear. Read on to learn more about the different types of roller chains and their applications. You'll be surprised how quickly the roller chain wears out! Below we have listed some of the most common causes of premature roller chain wear.
Double strand heavy-duty roller chain
If your application requires a heavy-duty chain, a double-strand steel roller chain is an excellent choice. Double-strand steel roller chains are manufactured to reduce stress fatigue and stretch, making them ideal for industrial and logging equipment. This type of chain is also heat-treated and shot-peened for excellent fatigue resistance and strength. Listed below are some of the advantages of double-strand heavy-duty roller chains.
When comparing single-strand and double-strand heavy-duty roller chains, double-strand steel roller chains are generally better. They have twice as many side plates and a working load close to that of a twin-strand steel roller chain. Unlike single-strand steel roller chains, double-strand roller chains are not interchangeable with standard double-sprockets. They use sprockets specially made for double chains.
Double strand chains are particularly strong, resistant to rust and corrosion, and ideal for high-stress applications. They are commonly used in conveyor systems, paper mill equipment, ditches, lifts, seed drills, and various hoisting machinery. They are also used in the wastewater and food processing industries. Chains of this type are used on conveyor lines, so they are an excellent choice for heavy machinery.
Nickel-plated chain
Nickel-plated roller chains are ideal for outdoor work, mildly corrosive environments, and applications requiring a good chain appearance. Nickel plating increases component hardness and improves wear resistance while ensuring that all surfaces are protected. The benefits of nickel-plated roller chains include increased durability, corrosion resistance, and a bright shine. Here are a few reasons to use such a chain. All chains are manufactured to the highest quality and safety standards.
Although slightly corrosive, nickel-plated roller chains are ideal for applications in high salt and high humidity environments. However, nickel plating can peel and chip, so nickel roller chains are not recommended for use in food processing or other environments exposed to corrosive substances. ANSI B29.1 standard chain can be nickel-plated and is ideal for a variety of applications including industrial garage doors and boat lifts.
CZPT USA Corp. is committed to being the premier agricultural and industrial chain supplier in the United States. By focusing on quality, they ensure their chains provide long life and unmatched wear resistance. If you're looking for a quality plated roller chain, consider choosing a chain from a leading manufacturer. If you need the durability and strength of a nickel roller chain, choose CZPT USA Corp. We manufacture the highest quality chains in the USA.
In addition to high strength, nickel-plated roller chains are also available in elastomer profiles. These types of chains can handle 1/2 to 3/4″ loads, depending on their pitch. They are also ideal for gentle traction on sensitive surfaces. The strength of these chains depends on the type of the main link used in the chain. Nickel-plated roller chains are available in a variety of sizes and are priced to suit a variety of applications.
Stainless steel chain
Stainless steel roller chains are ideal for industrial applications in two harsh environments. They have excellent chemical and corrosion resistance, as well as high strength. Chains are available in three grades to meet various operational needs. 304SS is suitable for food contact applications, while 316SS and 606SS offer excellent corrosion resistance. 600 series stainless steel provides excellent corrosion and wears resistance with precipitation hardened components.
In food processing, stainless steel chains are often exposed to extremely high temperatures and high concentrations of acids, alkalis, and water. They are also resistant to high concentrations of acid and chlorine. And their low magnetic permeability allows them to function properly in hygienic conditions. But stainless steel roller chains also have some disadvantages. Despite their excellent corrosion resistance, these chains are not recommended for use in food processing environments.
Compared to carbon steel, stainless steel roller chains are softer and hold longer. This means it may wear out faster. Since stainless steel is not heat-treated, its surface hardness is different from carbon steel. It retains heat for longer, reducing its tensile strength and extending its lifespan. Nonetheless, stainless steel roller chains are ideal for a variety of industrial applications.
The stainless steel roller chain is made of high-quality material. For example, the Premier series stainless steel roller chains are manufactured in Japan using a special type of stainless steel shot peening process. They also feature a solid roller design that reduces side flex. The Premier range also features highly polished side panels and is available in 10′ boxes, 50′ reels, and 100′ reels. They can also be cut to length if necessary.
Accumulation conveyor
Roller chain accumulation conveyors are designed to transport loads up to 440 lbs or 200 kg. The accumulator chain is located on large idler rollers to ensure quiet operation and the minimum force required to hold the pallet. They are suitable for various applications and can be integrated into the entire processing system. These conveyor belts have T-slots on three sides of the profile frame for connecting brackets and sensors.
Sensors installed in the accumulation area detect objects on the conveyor line and send signals to the motors that power the accumulation area. The motor can be external or built into the drum itself. Other types of sensors use light, such as photosensors. Photoelectric sensors detect objects by emitting and receiving specific wavelengths of light. This option is cost-effective because the sensor rollers are located slightly above the surface of the conveyor line.
Roller chain accumulation conveyors can be constructed of steel or plastic rollers. It can be equipped with staggered or coaxial rollers. Safety cover prevents accidental insertion of fingers into the chain, improving operator safety. The safety cover is compatible with the chain type and required bend radius. These caps are made of plastic clips that fit permanently on the inner links of the chain. They do not interfere with conveyed goods or workpiece carriers.
There are two basic types of accumulation conveyors: free flow and accumulation. Free-flowing chains allow conveyed objects to slide directly onto the chain while stacking chains allow goods to slide under the chain. Accumulation chains are commonly used in the food and packaging industries and have rollers that support conveyed objects. The free-flowing conveyor system eliminates the risk of damaging objects, as the rollers in the accumulation conveyor are in direct contact with the bottom of the cargo.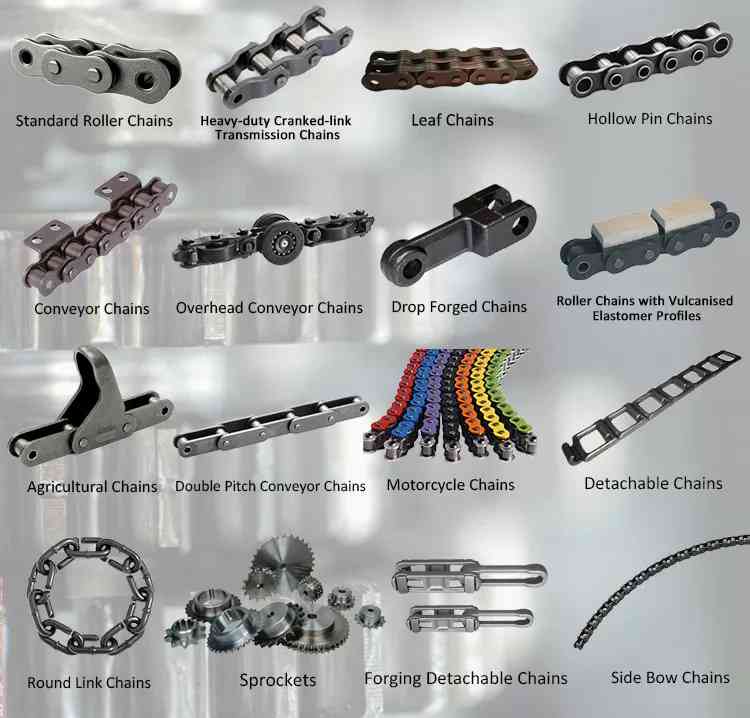 Custom attachment
Standard accessories for roller chains are available in a variety of styles. Typically, they can be assembled on pin or roller links. When referring to connecting chains, it is important to know how to refer to pitch and center-to-center spacing. The pitch of the roller chain should include inner and outer roller links and must alternate every three pitches. Additionally, you can order custom accessories for pin or roller linkages. Below are some examples of custom accessories for roller chains.
Stainless steel roller chains are one of the most well-known chains for this application. It has a stainless steel 304 finish to create curved and straight lugs. For even more flexibility, you can also request custom accessories such as chain plate holes and pins. For added safety, various accessories can be attached to the single-pitch roller chain. It can also be made with multiple pins or curved lugs.
HKK Chains is stocked with much stainless steel and carbon steel standard connecting chains. Most of the time, they can assemble a custom accessory chain in no time. For example, a single-pitch chain with two connecting holes is called a wide profile. Additionally, chains can be manufactured in a variety of materials, including carbon steel, stainless steel, Lambda, plastic, and Ultra WP. In addition, a wide range of unique accessories is available for special industries.



editor by CX 2023-05-24