Product Description
1,Durable and high Quality.
2,Nice-looking packing.
3,Prompt delivery. 
4,Wide range of parts for more models available.
5,OEM production welcome
6,Most competitive wholesale prices.
7. One stop buying service provided.
Our company is located in HangZhou and specialized in manufacturing and trading of moto parts and accessories.We could supply the parts for the popular Japanese brand,Chinese brands and Indian brand motorcycles.
With an experienced and professional team, we have exported our products to many countries and regions all over the world, especially Latin America,Middle East,East Europe and Africa.Our products enjoy a good reputation among our customers. We welcome customers, business associations and friends from all parts of the world to contact us and seek cooperation for mutual benefits.
The hot selling parts:
Scooter parts
Gy6 50/125/150 scooter parts,AN125,WH125 scooter parts,Keeway scooter parts
2-stroke parts
JOG50 3KJ,AG100,Dio50,MBK,PGT BUXY,PIAGIO TYPHOON,AX100
Bajaj parts
BM150,BM100,Dscover135,Pulsar200,200NS,XCD,3W4S,Platino etc
Tricycle parts
200cc cargo tricycle,250cc/300cc tricycles,and bajaj 3w4s parts,TVS king
Engine parts
Cylinder,piston,head,gear sets,camshaft,gear sets,camshaft,plug,bearings etc
Electrical parts
CDI,regulator,stator coil,start motor,start relay
Brake parts
Brake pad,brake shoes,brake caliper,disc,brake pumps
Body parts
Kick lever,gear levers,footstep,shock absorbers,meters, fuel tank,seat
Transmission 
Drive chain,sprockets,cam chain,chain lock,wheel hub,and covers
Switches
Ignition switches,lock sets,fuel cap,hand switches,fuel cock
The models we work for:
HONDA
CG150/200/250,CGL125,XL125,GL125 KYY,CBF125 KTT,CB110,CBR190,CB125,
XR150,CRF230,NXR125,WAVE110,WH125,CBX125,BIZ110,XL200,JH70 ETC
YAMAHA
CRYPTON T105 T110,YBR125,YB125,YS150 FAZER,FZ16,XTZ125,XT225,DT175
JOG50 3KJ,JOG 3YK,JOG 3KJ ,JOG 4JP,CY80,DX100,BWS125,RX115 ETC
SUZUKI
AX4 GD110,AX100,GN125H,EN125,AN125,GS125,GIXXER150,YES125,GN125 INTRUDER,SMASH110,FT110 ETC
 
OTHER MOTOS
SYM,TVS,ITALIKA,GENESIS,EUROMOT,UM,AKT,YUMBO,MOTOMEL,ZENELLA,
MONDIAL,LIFAN,ZONGSHEN,LONCIN,XIHU (WEST LAKE) DIS.,XIHU (WEST LAKE) DIS.N,HangZhou,ZONTES ETC
FAQ: 
1. Why choose us?
We are professional in the moto parts business in China mianland. We are confident that with our experience,quality,service can give our customers complete satisfaction.  
2. MOQ:
It is between 100 or 200pcs or sets,it depends on the parts. For some parts,200pcs is a start,for some big parts,for 50pcs,there is no problem.
 
3.Mode of Delilivery
it could be by air,by sea (LCL,FCL) or by express (DHL/UPS/TNT/FEDEX).
we can delivery it according to your option.
4. Delivery time:
We could make delivery within 15 or 20 days after your deposit payment. Also it depends on what kind of parts you buy. For some parts,if we have stock,it will be very quick,one week will be ok.  
 
5. Payment:
we accept T/T payment,L/C and Western union. Actually,we use T/T more,namely by 30% deposit,balance could be paid before or after loading.  
 
| | |
| --- | --- |
| Type: | Chain |
| Material: | 1023 Steel or 1045 Steel |
| Certification: | ISO9001:2001, CCC, CE |
| Number of Row: | Single Row |
| Surface Treatment: | Zinc Plated, Chrom Plated, Polishing |
| Transport Package: | by Carton Box |
Customization:

Available

|

Customized Request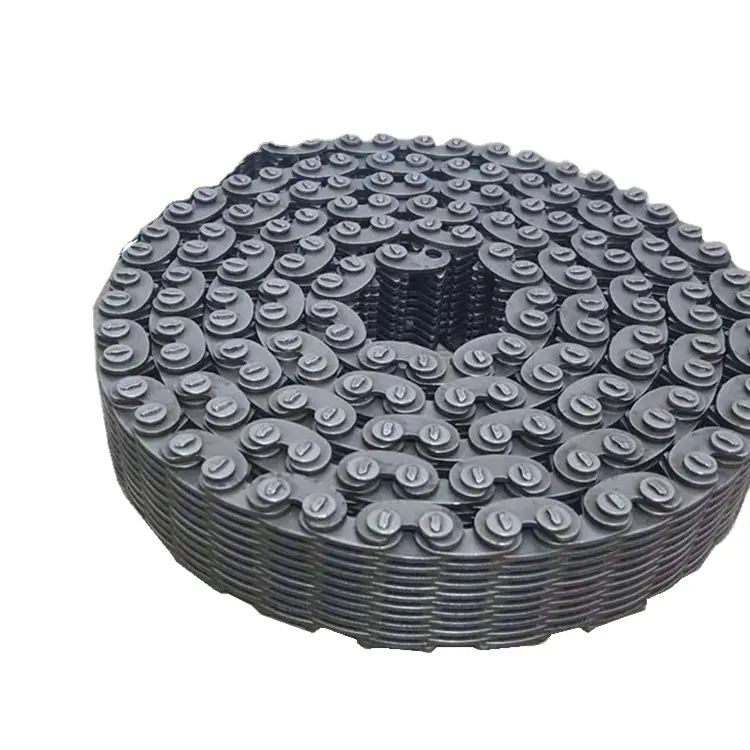 What are the noise levels associated with a motor chain?
The noise levels associated with a motor chain can vary depending on various factors:
1. Chain Design:
The design of the motor chain, including the type of links and the pitch, can influence the noise levels. Chains with precision-formed and accurately machined components tend to produce less noise compared to chains with rough or uneven surfaces.
2. Lubrication:
Proper lubrication of the motor chain is essential to reduce friction and noise. Insufficient or improper lubrication can result in increased friction, leading to higher noise levels. Regular lubrication with suitable lubricants can help minimize the noise generated by the chain.
3. Tension and Alignment:
A motor chain that is improperly tensioned or misaligned can produce excessive noise. It is important to ensure that the chain is properly tensioned and aligned to minimize noise generation.
4. Wear and Maintenance:
As a motor chain wears over time, it may develop loose links or damaged components, leading to increased noise during operation. Regular maintenance and timely replacement of worn-out parts can help prevent excessive noise levels.
5. Surrounding Environment:
The noise levels in the surrounding environment can also affect the perceived noise from the motor chain. Other machinery, equipment, or environmental factors can contribute to the overall noise levels in the area.
Overall, the noise levels associated with a motor chain can be minimized through proper chain design, adequate lubrication, correct tensioning and alignment, regular maintenance, and a well-controlled surrounding environment. It is important to follow manufacturer guidelines and recommendations for noise reduction techniques and use appropriate noise-dampening measures if necessary.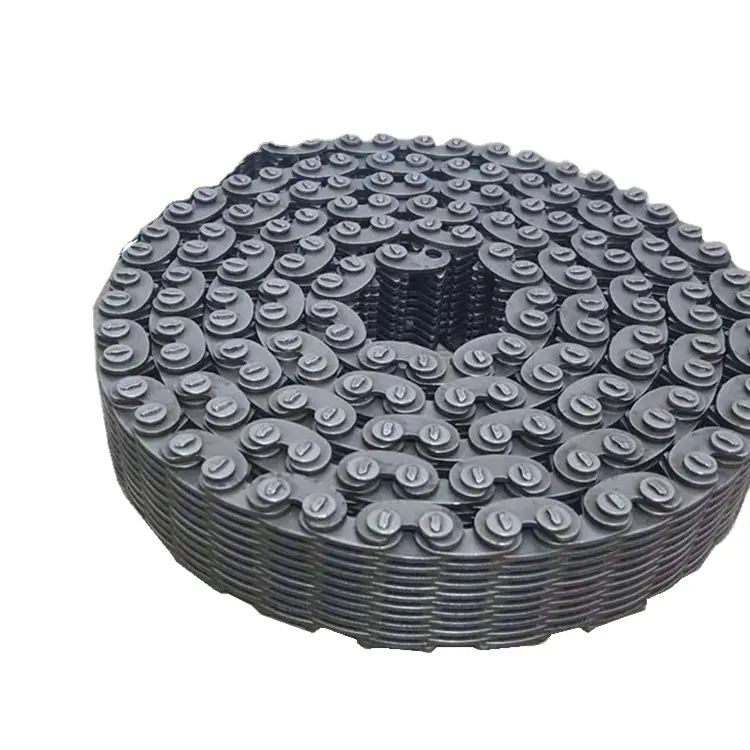 Can a motor chain be used for high-speed applications?
Yes, motor chains can be used for high-speed applications depending on their design and specifications. Here are some factors to consider:
1. Chain Speed Rating: Motor chains are typically rated for specific maximum speeds. It is important to choose a motor chain that has a speed rating suitable for your application. Higher speed ratings indicate that the chain is designed to handle faster rotational speeds without compromising performance or safety.
2. Chain Design: Motor chains for high-speed applications are often designed with features to reduce friction and minimize the effects of centrifugal forces. This may include precision machining, specialized coatings, and optimized lubrication systems. These design considerations help maintain chain stability and performance at high speeds.
3. Lubrication: Proper lubrication is crucial for high-speed motor chain applications. It helps reduce friction, heat, and wear, ensuring smooth operation at elevated speeds. Selecting the appropriate lubricant and establishing a regular lubrication schedule are essential for maximizing the performance and lifespan of the motor chain.
4. Chain Tension: Maintaining proper chain tension is important for high-speed applications. Excessive slack or excessive tension can lead to performance issues, increased wear, and potential chain failure. It is necessary to follow the manufacturer's guidelines for tensioning the motor chain and regularly check and adjust the tension as needed.
5. Sprocket Design: The design and quality of the sprockets that engage with the motor chain are also crucial for high-speed applications. High-speed sprockets should be precisely machined, balanced, and durable to ensure smooth and reliable power transmission.
It is important to consult the manufacturer's specifications and guidelines when selecting a motor chain for high-speed applications. They can provide detailed information on the chain's speed capabilities and any specific considerations for optimal performance at high speeds. By choosing the appropriate motor chain and implementing proper maintenance practices, it is possible to use motor chains effectively in high-speed applications.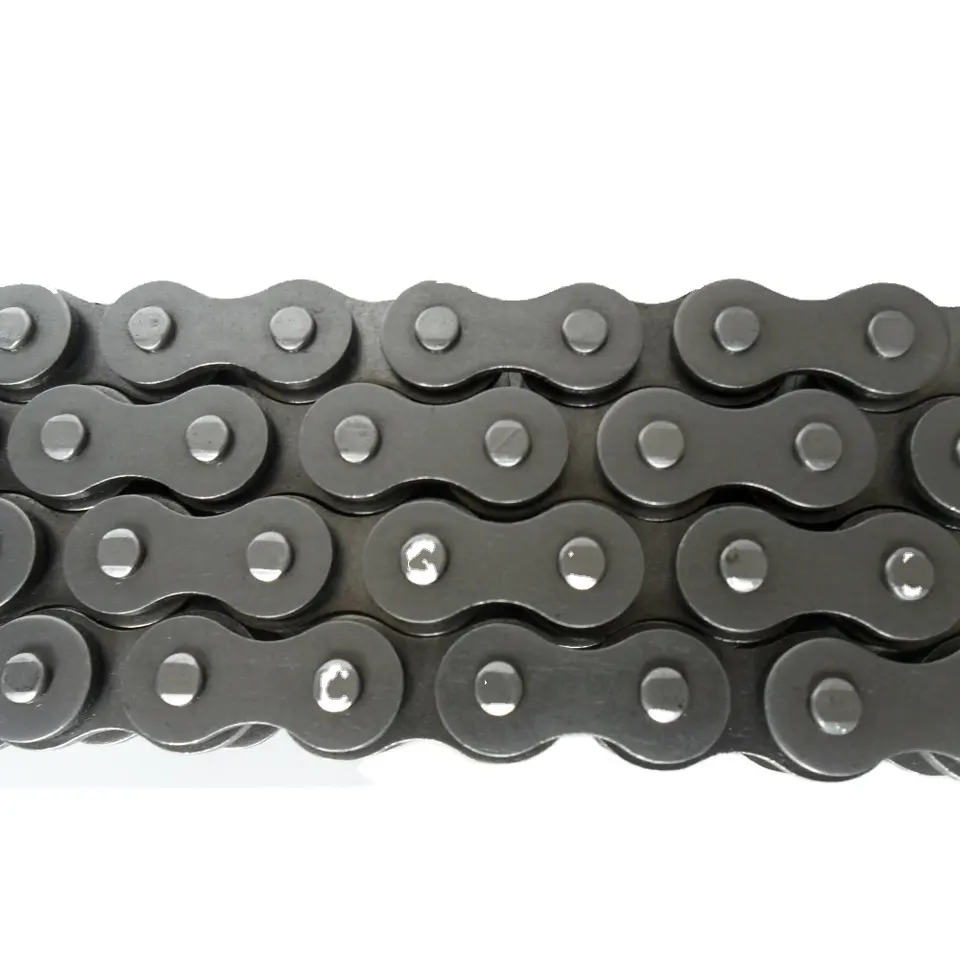 How do you select the right motor chain for a specific motor?
When selecting a motor chain for a specific motor, there are several factors to consider. Here is a step-by-step guide:
1. Determine the motor specifications: Start by understanding the motor's power rating, speed, and torque requirements. This information will help you choose a motor chain that can handle the motor's power output and torque demands.
2. Identify the application requirements: Consider the specific application in which the motor will be used. Determine if the motor will be subjected to high loads, high speeds, or harsh environmental conditions. This will help you select a motor chain that is suitable for the application's demands.
3. Determine the chain type: Motor chains come in various types, including roller chains, silent chains, bush chains, and more. Each chain type has its own characteristics and performance capabilities. Select a chain type that aligns with the requirements of the motor and application.
4. Calculate the chain size: Determine the required chain size based on the motor's power and torque requirements. Consider factors such as pitch size, roller diameter, and number of chain links. Manufacturers typically provide chain size charts or calculation tools to assist in selecting the right chain size.
5. Consider the environmental factors: Take into account the environmental conditions in which the motor will operate. If the motor is exposed to moisture, chemicals, high temperatures, or other harsh elements, choose a motor chain with appropriate corrosion resistance, temperature resistance, and durability.
6. Consult manufacturer recommendations: Consult the motor manufacturer's recommendations or specifications to identify any specific requirements or restrictions for motor chains. They may provide guidance on compatible chain types, lubrication requirements, and maintenance recommendations.
7. Evaluate cost and availability: Consider the cost and availability of the selected motor chain. Evaluate factors such as initial cost, maintenance requirements, and the availability of spare parts or replacements.
By considering these factors and conducting thorough research, you can select the right motor chain that matches the motor's specifications, application requirements, and environmental conditions. It is recommended to consult with motor and chain manufacturers or industry experts for further guidance and assistance.



editor by CX 2023-09-18